TOP TRENDS by Casual Living
TOP TRENDS
These are some hot trends for 2018, along with strategies for merchandising your current product assortment to fit these categories.
1. Leaves: We're seeing large-scale leaves and botanicals on fabrics, rugs, artwork and throw pillows, and it's a fresh and modern look. If you have furniture with leaf-patterned fabrics, leafy throw pillows or a leaf-patterned rug, be sure to call it out. Create a one-sheet inspiration page using images of leaves on various home décor pieces. Show how the trend can be used in big ways on chair cushions, or in more subtle ways with accessories and throw pillows. The key is to isolate the leaf trend into one product in a vignette—you don't want to display multiple leaf items together because a little of this trend goes a long way.
2. Black as an Accent: Black is a big trend right now, and if you have black aluminum or wrought iron you probably had no idea how trend-aware you already are! If you have cushions or throw pillows with black in the pattern, definitely point it out, and let people know black accents add a chic touch to any space. Black accessories are also a great way to incorporate the trend—lanterns, fire elements, lighting and mirrors.
3. Mixed Materials: We've seen this mixing of materials for a while, and it's as simple as combining a silver table from one group with a wicker sofa from another group or taking a bronze chair and pairing it with a teak table. The most expensive part of this process is the manpower it takes to move the furniture around. Again, create a one-sheet that shows mixed material inspiration pictures, and let folks know their outdoor spaces can be as stylish as their indoor spaces. This also allows people to see smaller accent furniture items as pieces they could buy individually without purchasing entire furniture sets.
4. Color Cues: It has become such a big deal when Pantone, Benjamin Moore and Sherwin Williams announce their "colors of the year." Most consumers don't really buy into following the paint predictions from these color powerhouses, but that doesn't mean you can't capitalize on what's current and turn it into a fun story on your sales floor. Benjamin Moore's "Caliente" red, Sherwin Williams' "Oceanside" teal blue and Pantone's "Ultra Violet" purple are at the forefront for 2018. Take a look around your store and see if anything comes close to any of these colors. Create a fun sign showing the color, the paint company or Pantone logo, and call out how the similar color is used in your store. It's important to use the logo in the signage because it looks official and will pique customers' curiosity.
On-trend colors like Oceanside blue work well in outdoor rooms.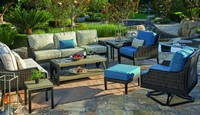 5. Sage Green: Speaking of color, we are seeing sage green used in all sorts of ways these days—everything from painted cabinetry and accent furniture to accessories and bedding. You can highlight this trend in a vignette with sage fabrics, rugs and accessories. You could also take it one step further and actually paint one accent wall sage green. It's only about $30 dollars worth of paint, and doesn't take long to paint just one section of a wall behind a vignette. The great thing about an accent wall is if you have a very neutral tan outdoor furniture collection, it can really freshen up the look. (My two favorite sage green paint colors are: Benjamin Moore "Soft Fern" #2144-40 or Sherwin Williams "Contented" #6191.)
Trends come and go, but they can still be a valuable tool on the sales floor. You can use these hot colors, materials and styles to tell a design story and create visual interest in your store to engage customers. Taking advantage of trends that blur the lines between indoor and outdoor can be a great conversation starter as well as motivation to incorporate updated looks on your retail floors. Think of it as jewelry for your outdoor space— you should have some fun with it!
Article by Casual Living February 2018